Mary Anne is a 3 mast barquentine motor-sailing yacht in the square rigger tradition and with wood panelling, making her the perfect choice for lovers of sailing ships.
Mary Anne is the only 3 mast barquetine in the Galapagos Islands, making her the perfect choice for lovers of sailing ships. Guests enjoy the informal atmosphere and genuine windjammer experience of sailing around the Galapagos Islands. 
Mary Anne can accommodate up to 16 passengers in 12 double, tastefully furnished cabins. Because she will only every take up to 16 passengers, Mary Anne is able to offer single cabins without supplement, making her the ideal choice for single travallers who want to cruise the Galapagos Islands.  Launched in 1997, this elegant barquetine was designed specifically with environmentally friendly operations in mind and is certified by Smart Voyager. Because she has both motor and sails, she is not constrained by the direction and strength of the wind, but when the wind is favourable the crew will rig her and she will travel under sail.
Mary Anne
Useful Information
Boat description
Key Features:
Fully air-conditioned, private rooms with bathrooms
Stunning barquentine with over 1000 square meters of sail
Kayaks on-board
Snorkel bear
Environmentally sound cruise
Overview:
The enchantingly romantic Mary Ann will stop the breath of every sailor or sailor at heart. With over 1000 m2 of sail, she majestically parts the waves with full sails and with power. 
Guests will be comfortably accommodated in twelve double cabins (max. capacity twenty-four), each with air-conditioning and a private bathroom.  Relax in the rich wood-panelled lounge or library (with TV and video equipment); let yourself unwind on the sundeck as you take in the fresh sea breezes. 
Since Mary Anne features a full crew of eight, you can rest assured that every aspect of your cruise from the delicious food to the informative nature presentations will be carried out expertly.
Deck plan & cabins
There are 12 guest cabins, all located on the cabin deck. 10 have double lower and single upper berths and 2 (no.s 9 & 10) have double lower berths and no upper berths. All have a porthole (rather than full size window), air conditioning, closet and private shower room with hot and cold running water. As she has a maximum capacity of 16 passengers, some of the cabins are usually used for single occupancy.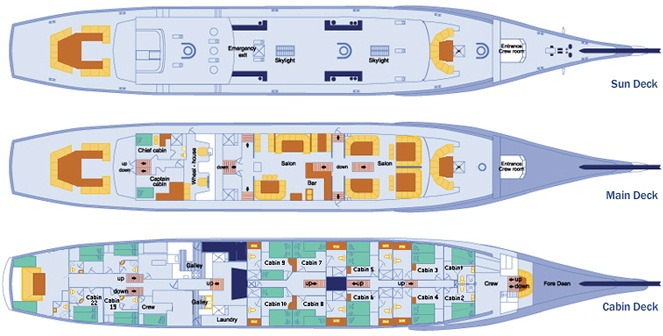 Western itinerary 7 nights
Saturday to Saturday
DAY 1 Arrive Baltra, Charles Darwin Research Centre (Santa Cruz)
We start with a visit to the Charles Darwin Research Centre and the Fausto Llerena Breeding Centre, to see tortoises from across the different islands. We then board the Mary Anne with a welcome dinner and introductory briefing.
DAY 2 Punta Cormorant & Post Office Bay (Floreana)
The second day is spent on Floreana Island, starting with the beautiful beach at Punta Cormorant and the chance to see greater flamingos, sting rays and sea turtles nesting grounds. A panga ride then follows to Devil's Crown, where we have our first snorkelling opportunity.
In the afternoon we visit Post Office Bay, where you can take one of the letters or postcards to hand-deliver to someone near your home and perhaps live one in the hope someone does the same.
DAY 3 Black Beach & Whales/Dolphin Watching (Floreana)
We start the day on the black beach of Floriana to learn about the history of human inhabitants in the archipelago and then the Asilo de la Paz fresh water source and caves, once used as pirate hideouts. The afternoon is then dedicated to exploring the marine reserve waters of the Galapagos, looking for different species of whales and dolphins, whilst travelling between Floreana and the volcanic landscapes of Isabella.
DAY 4 Punta Moreno & Elizabeth Bay (Isabela)
Disembark at Punta Moreno and admire the spectacular lava flows, surrounded by volcanoes. We undertake a short hike to a nearby lagoon to look for the flamingos, herons and pelicans that frequent this beautiful area.
Later that day we take a panga ride around Elizabeth Bay, another picturesque lagoon, fringed by the archipelago's largest red mangroves. Sea turtles, flightless cormorants, blue-footed boobies and penguins are commonly seen around here and it is possible to see humpback whales breaching.
DAY 5 Urbina Bay (Isabela) & Punta Espinoza (Fernandina)
Our tour continues at Urbina Bay, which experienced a major geological 'uplift' about sixty years ago, leaving behind interesting coral and marine fossils for us to admire. There is also a black sand beach here that is a nesting site for green sea turtles, whilst inland we can see land iguanas and giant tortoises (depending on season). The waters here afford some great snorkelling.
In the afternoon we make the short crossing to Fernandina, the archipelago's youngest island. We disembark at Punta Espinoza to spot flightless cormorants, sea lions, penguins, hawks, marine iguanas and Sally Lightfoot Crabs.
DAY 6 Tagus Cove & Punta Vicente Roca (Isabela)
The morning is spent exploring Taguas Cove, another former pirate hideaway, where the names of their boats are inscribed in the cliff face. The highlight here is the beautiful Darwin Lake, a salt-water lagoon which fills a volcano crater.
We then take another panga ride around the coastline and enjoy some of the best snorkelling in the Galapagos. The underwater cliffs are brought to life by the dazzling colour of the marine life below.
DAY 7 Espumilla Beach & Puerto Egas (Santiago)
The penultimate day is spent exploring Santiago island, starting at the golden sands of Espumilla beach, another green sea turtle nesting site. From here, we follow a forest trail to spot yellow warblers, Darwin finches and the Galapagos flycatcher.
The afternoon brings a visit to Puerto Egas, a volcanic beach populated by Galapagos fur seals, Sally Lightfoot crabs and marine iguanas. The shore is home to an abundance of marine and bird life and features an impressive natural lava arch.
DAY 8 North Seymour & Depart Baltra
The cruise ends at the small island of North Seymour, a haven for frigatebirds, blue-footed boobies and swallow-tail gulls, who have their largest nesting sites here. Return to Baltra to disembark and transfer to the airport.
Eastern itinerary 7 nights
Saturday to Saturday

After arriving at Baltra airport we will be greeted by an Angermeyer Cruises representative to then board the Mary Anne and have lunch. After lunch, we will navigate a short distance to Black Turtle Cove, a large mangrove lagoon on the north coast of Santa Cruz Island.  Pelicans and herons roost on the branches, while marine dwellers such as green sea turtles or golden rays may cruise right next to the panga as it makes its way through the mangroves.

DAY 1 Genevosa Island
AM: We travel to Genovesa Island and reach Darwin Bay (wet landing), a unique site lined with red mangroves and soft-haired prickly pear cacti where red-footed boobies and great frigatebirds perch tamely.

PM: At Prince Philip Steps (dry landing), we climb the edge of a cliff where frigatebirds, masked boobies, and red-footed boobies nest. We will be seeking out the impressive red-billed tropicbird amidst Galapagos storm petrels.

DAY 2 - Bar
AM: Dry landing at Isla Bartolome to climb up the wooden steps and reach the summit of this spatter cone for a breathtaking panorama of the island's photogenic Pinnacle Rock, with views of neighbouring Santiago and many other central islands in the distance.

PM: We head across to Sullivan Bay (dry landing) in Santiago to walk over a recent lava flow, including very fresh pahoehoe lava formations, lava bubbles containing crystallized minerals, and pioneer plants. Along the shoreline, we may find Galapagos penguins and herons going after small fish. 
 
DAY 3 - Rabida red beach & Cerro Dragon
AM: Wet landing onto Rábida's deep-red beaches to explore the red island's fascinating interior and saltwater lagoon. Darwin's finches, Galapagos mockingbirds, and yellow warblers feed off the vegetation. Given the right time of the year we may see brown pelicans nesting on salt bushes that fringe the beach.

PM: We head across to Cerro Dragón on Santa Cruz's northwest shore (dry landing) to visit a saltwater lagoon, home to Greater Flamingos, black-necked stilts, and white-cheeked pintails. Further inland we find a fantastic land iguana nesting site.

DAY 4 - Santa Cruz highlands & Charles Darwin Research Station
AM: We will spend this day visiting Santa Cruz Island´s most famous highlights. We will have a dry landing in the dock of Puerto Ayora to then board our transportation and head to the island's highlands. This area, in contrast to the coastal region, has lush vegetation and forest due to the humidity that gathers in the higher regions. We will visit one of the ranches of the area where it is possible to see giant tortoises in their natural habitat. As these animals migrate from the coastal area to the highlands and back, the chosen ranch will depend on the presence of the tortoises, as they roam free and change locations. This is also a good place to see the Galapagos hawk and barn owl of this island and the surrounding forests are filled of birds such as the vermilion flycatcher or the yellow warbler. 

PM: We will enjoy lunch at the ranch to then head back to Puerto Ayora for our second visit of the day, the Charles Darwin Research Station and the Fausto Llerena Breeding Center. Here we will see tortoises from different islands. The animals are found in large semi natural pens for their protection, but also to ensure an easy view for the visitors. The pens are divided according to four different stages: eggs, neonates, juveniles (held here until they are mature enough to be "repatriated"), and adults. After this visit, we will have some time to explore the town of Puerto Ayora and its many souvenir shops, before boarding the Mary Anne for dinner and the evening briefing. 

DAY 5  - Plaza Sur & Santa Fe
AM: Dry landing on one of the oldest docks of the archipelago, colorful Plaza Sur is home to vibrant green prickly pears, deep red Sesuvium and coppery-orange land iguanas; impressive seaward cliffs are excellent for a variety of coastal birds. This is also a great place to observe the adult and pup sea lions swimming along the shores. 

PM: After a wet landing on Santa Fe onto a white beach where sea lions are usually resting, we will be looking for the endemic species of land iguana, larger and yellower than land iguanas on other islands. The largest prickly pear cacti in the Galapagos are also found here. 

DAY 6 - Punta Suárez & Española
AM: Punta Suárez (dry landing) is a spectacular walk to give insight into the intimacies of life at sea, with nesting sites of blue-footed and Nazca Boobies, as well as the fascinating breeding rituals (April to December) of the waved albatross. Lined with neon-colored marine iguanas (January), and lazy Galapagos sea lions, we walk up to an amazing viewpoint of the famous blowhole. 

PM: We will spend the day on fantastic Española, starting with Gardner Bay (wet landing), an outstanding beach with sea lions, marine iguanas, and the intrepid Española Mockingbird.

DAY 7 - Gemelos craters & flight to mainland
AM: This is our last day in the islands. After breakfast we will disembark in Puerto Ayora to take our transport to Baltra Airport, doing a short stop to visit the Twin Craters. The Gemelos (twins) are two deep craters located to the side of the road that leads to Puerto Ayora from the other side of the island.  These huge holes were probably created in a volcanic explosion or by magma chambers underneath the island´s surface. This is also a good place to see the Galapagos hawk and barn owl of this island and the surrounding forests are filled of birds such as the vermilion flycatcher or the yellow warbler. Something worth mentioning is the contrast of the vegetation of the highlands with the arid coastal zones. After this visit we will make our way to the Baltra airport for the flight to mainland Ecuador.
Please enquire for information on 5-Day, 6-Day, 10-Day, 11-Day and 15-Day itineraries for Mary Anne.
Speak with a Specialist
Travel Enquiries
Complete a form or call our specialist advisors to start planning your trip.
Please provide as much information as possible, and we will aim to respond to your enquiry the same or next working day.
Speak to a Specialist
+44

0

20 8762 0616
travel@veloso.com
Travel in Confidence
Free Proposal Itinerary
100% Customisable Tour
Specialist Advice & Inspiration
First-hand Knowledge
Expert Travel Consultants
Excellent Service & Support