The most exclusive small river vessel, with only 8 passengers, to cruise the Amazon Basin.
Cruise the Amazon basin in complete luxury with only 8 travelling companions in four master suites with large private wooden decks, floor to ceiling windows, and daily guided excursions ashore.
The Delphin I has four master suites all with large private wooden decks, floor to ceiling windows, minibar & air-conditioning, private facilities, a hair dryer, and fine organic amenities. Two of the cabins are located on the main deck with private Jacuzzis. The guides and crew provide a personalised service.The public areas include an open terrace with large & soft sofas, big ceiling fans, an Amazon Wildlife reference library, a flat TV& DVDs, a bar and game tables.
The Delfin I
Cabins & Suites
The Delfin I
Cruise Itineraries
Speak with a Specialist
Each of these cruises itineraries can be integrated into our tailor-made tours.
Get first-hand advice & inspiration from our specialist advisors.
Contact us to help start planning your next tailor-made trip.
Enquire Now
Ask Question
3 night Amazon Cruise

3 Nights from £1900

Venture into the Peruvian Amazon with lots of activities, including memorable hikes, kayaking, fishing and community visits and more.

Day 1 - Embark

Our guides will wait you in the luggage port and will gather your belongings to transfer you to our embarkation port in Nauta. The ride will take 1,5 hours. After embarking and you are settle in your cabins our dining room is ready to treat you with fantastic Amazon delights. After dinner we invite you to the third deck were you can enjoy stargazing while we cruise in to the depth of the Amazon Rainforest. 

Day 2 - Pacaya Samiria National Reserve & YanaYacu River

Fundo Casual and YanaYacu/Pucate Rivers. On your first morning with us we will recommend an early activity to explore one of the most important zones of the Pacaya Samiria National Reserve. Early rising is always rewarding and wildlife is abundant and very active. We´ll start with a morning hike on terra firme (non-flooded forest) our guides will point you the dynamic of the rainforest. In the afternoon, we will start cruising through the YanaYacu River towards different creeks and lagoon, our guides will point you all the creeks and lagoon, our guides will point you all the biodiversity of these region. 

Day 3 - Canopy Walk, Water Activities & Night Safari

Canopy Walk on Amazon Park and Jacinto Cocha. We will start this morning visiting a private reserve with 8 hanging bridges. A primary forest hike and paddling slowly tru Tahuampa lake, a black waters lagoon with giant arapaimas that we will hear them breath. In the afternoon we will visit Jacinto Cocha, a black water lagoon were we will have the chance to do some kayaking and also fishing for the famous piranha! This will be a experience that you will not forget, they are very smart and fun to catch. During the night we will have a night safari and search for caimans and night birds.

Day 4 - Local Community & Rehabilitation Center

On board our skiffs we will stop at the village of San Francisco to meet local villagers. The women of this village have the most amazing arts & craft market. In our way to Iquitos airport we will visit the Rescue & Rehabilitation Center of Mammals were you will have the chance to meet baby manatees and learn about this pacific and wonderful creatures and why they are in the endangered species list. Our land personnel will wait you at the airport and give your boarding passed and help you check in. 05:30 pm. Flight departs for Lima.
The Delfin I
Useful Information
Boat Description
Latest updates: Refurbished in 2010
Type of vessel: River vessel
Port of Embarkation: City of Nauta
Vessel´s Registry: Peru
Length: 67 feet Beam: 33 feet Draft: 5´8"
Capacity: 12 passengers
Generator: Caterpillar, 45KW (encapsulated) Engine: Cummins 285HP diesel turbo boosted Cruising Speed: Average 8 knots
Water: Water treatment plant with 5.0 cubic meter capacity
Sewage Waters: 2.5 cubic meter septic tank Radio Communication: VHF, UHF and satellite phone on board
Launch Boats: 2 aluminum 10 passenger skiffs equipped with four stroke low emission Mercury 60HP engines + radio communications with main vessel, life jackets and flares
Life Jackets: one per passenger, available in each Suite
Deck Plan
Map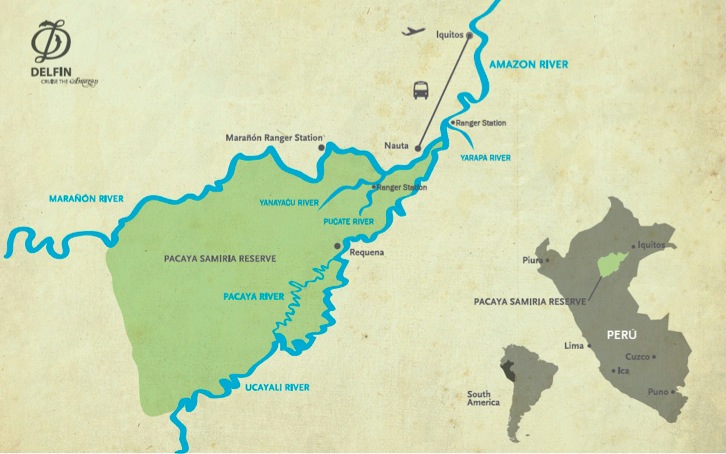 Speak with a Specialist
Travel Enquiries
Complete a form or call our specialist advisors to start planning your trip.
Please provide as much information as possible, and we will aim to respond to your enquiry the same or next working day.
Speak to a Specialist
+44

0

20 8762 0616
travel@veloso.com
Travel in Confidence
Free Proposal Itinerary
100% Customisable Tour
Specialist Advice & Inspiration
First-hand Knowledge
Expert Travel Consultants
Excellent Service & Support