Cruise the Amazon basin in complete luxury and style with only 8 travelling companions in four luxurious master suites with large private wooden decks, floor to ceiling windows, and daily guided excursions ashore.
The public areas include an open terrace with large & soft sofas, big ceiling fans, an Amazon Wildlife reference library, a flat TV& DVDs, bar and game tables.
The air-conditioned master suites on the Delfin I have a minibar, private facilities, hair dryer and fine organic amenities. Two of the cabins are located on the main deck with private Jacuzzis. The crew provide a personalised service and the expert naturalist guides take you daily adventures into the Amazon as well as providing briefings and lectures on board ship.
Cabins
Route
Boat Description
Map
Boat Description
What's included in the price
Transfer from Iquitos
All meals
All excursions with expert naturalist guides
Natural juices, soda, coffee, tea, water, beer, house cocktails, Pisco cocktails & sours, house wines 24/7
National park entrance fees
Children under 11 years of age get a 20% discount
Vessel information
Latest updates - Refurbished in 2010
Type of vessel - river vessel
Port of Embarkation - city of Nauta
Vessel registry - Peru
Length -  67 feet Beam: 33 feet Draft: 5´8"
Capacity - 8 passengers in twin/double suites, maximum 12 passengers if all suites used at triple
Generator - caterpillar, 45KW (encapsulated) Engine: Cummins 285HP diesel turbo boosted
Cruising Speed - average 8 knots
Water - water treatment plant with 5.0 cubic meter capacity
Sewage waters - 2.5 cubic meter septic tank Radio Communication: VHF, UHF and satellite phone on board
Launch boats - 2 aluminium 10 passenger skiffs equipped with four stroke low emission Mercury 60HP engines + radio communications with main vessel, life jackets and flares
Map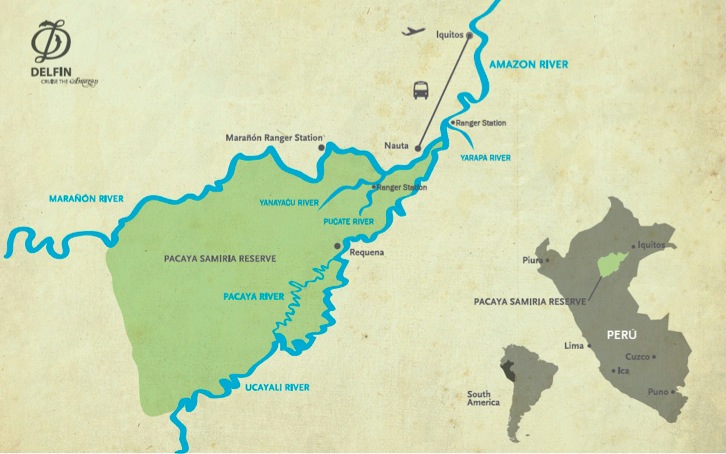 Choose your perfect holiday
Find inspiration from our selection of itinerary suggestions, a great starting point for your next trip
View More Tours
Specialist Advice & Ideas
Since 1999, we focus on carefully crafting unique and authentic travel experiences in Latin America and beyond.
Create Your Perfect Tour
Your holiday is tailored by our specialist advisors to fit your preferences using our extensive kowledge of each destination
The Best Local Guides
We have developed an extensive network of expert local guides, hand-picked to provide exclusive excursions and authentic insights.
Travel with Confidence
Our local guides are your hosts providing support, information and so you visit the main sites and experience life like a local.
Stay in touch
Infuse your travels, with inspiration from our monthly newsletter.